I've mentioned previously on this blog how obsessed I've been with wreaths this Christmas. It all started
here
when I fell in love with the felted wreath on the Pickles blog. I promise this is the last wreath post (for this year at least). Unless I come across any more brilliant ones.
My other half doesn't like anything too twee or 'country cottagey' so I've steered clear of anything using branches and berries, although there are plenty of tutorials for those online if that's your thing.
I decided I wanted a bauble wreath but didn't fancy the price tags on the ones I saw in Paperchase, plus they weren't
quite
what I wanted. I stocked up on little glass baubles, grabbed a wire hanger (those things are tougher than they look!) and came up with this: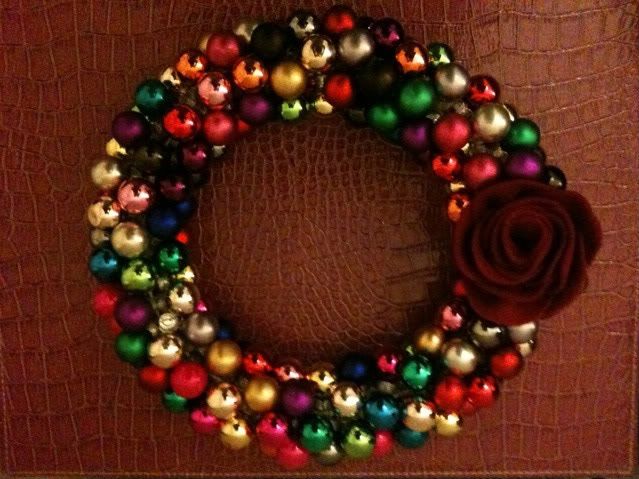 I have to say, threading baubles is extremely therapeutic following a day of tube strike madness in London - can anyone beat a 2.5 hour morning commute (bearing in mind I live less than 5 miles from work)? I could have walked it quicker. Anyway, I digress. I threaded the baubles straight onto the wire for a more 3D effect (yes I know life is 3D, I guess I just mean it looks the same from the back), so it took a LOT of baubles! You could probably use less if you used wire to keep the baubles round to the front. I made the flower using this
tutorial
from Marie at A Sewing Odyssey.
It's currently displayed in my fireplace along with lots of other magic and sparkle!
I blogged last week that I'd fallen in love with this
tinsel wreath
that I saw on the Creature Comforts blog. I hunted high and low in Crouch End for tinsel to no avail, but finally came across some in the Alexandra Palace garden shop - yay! Here's my interpretation:
It looks a little brash in this photo, but when all the fairy lights are lit it's gorgeously twinkly and festive. I may switch the crocheted heart for a flower at some point.
If you're looking for more inspiration, EZ at Creature Comforts posted a fantastic round up of the
best DIY wreaths
. The Channel 4 website also have a few good ideas
here
.
I'm off to sip the rest of my red wine (it'll soon be time to mull it, I LOVE the smell) and play about with the crocheted snowflake wreath I have in progress. Stay cosy everyone.
Cxx